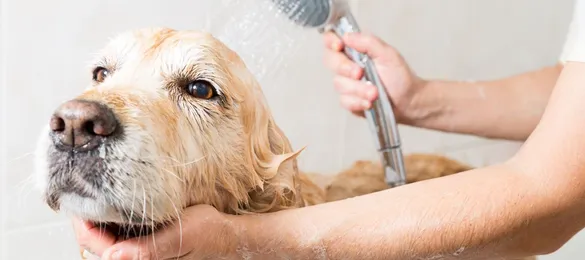 Pet grooming is vital to your pet's health and wellness. Routine pet grooming at a veterinarian's office helps catch underlying conditions and diseases early. Pet grooming services include everything from bathing to brushing and nail clippings to hair cuts. A clean pet helps ensure the pet stays healthy, including exotic animals. Wheeling Animal Hospital in Higgins, Wheeling, and Arlington is your exotic animal vet providing grooming services for dogs, cats, and a variety of other pets.
Spa and Salon Pet Grooming Services
Our veterinarians offer pet spa and salon services, giving your furry friend a shinier coat and helping them live happy and healthy lives. Pet grooming services at our animal hospital are tailored to your pet's needs, including one-on-one counseling with a groomer for bathing, blow-drying, clean-cut, ear cleaning, dematting, shaving, and nail trimming. Similar pet grooming services are available for select exotic pets.
Basic Pet Grooming Bathing
Typical pet grooming bathing services include a bath using detergent-free shampoos, warm hydro massage, cleaning of both ears, pedicure, blow-drying, brush out, and pet cologne. In addition, some vets provide additional grooming services based on the animal.
Feline Grooming
Dogs are not the only pets who can get groomed, and our veterinarians offer pet grooming for felines. In addition, feline companions have a specific grooming area separate from the canine bathing area and have a list of special pet grooming services for their needs. Call our animal hospital to learn more about our feline grooming options.
Exotic Pet Grooming
Exotic pets, including reptiles, birds, and other mammals, need to be groomed now and then. Exotic animal grooming services include nail trims, beak trims, wing trims, sanitary clipping, and bathing. If you need pet grooming services for your exotic pet, contact our exotic animal veterinarian to learn more about our grooming options and plans.
Schedule a Pet Grooming Appointment at Wheeling Animal Hospital
If your pet needs to see a groomer, contact Wheeling Animal Hospital in Higgins, Wheeling, and Arlington to schedule an appointment with one of our groomers. We provide pet grooming services for canines, felines, and exotic pets to help your pets look fabulous and feel clean. We also specialize in helping to reduce your pet's anxiety during their pet grooming session. Call our team today or reach us through our website by using our online contact form.