Cold Laser Therapy Is Now Available At Higgins Animal Clinic!
We are excited to offer a new pain management tool that has been proven to be safe and effective for dogs and cats. Cold laser therapy treatments will not only reduce your pet's pain, but it can also quicken your pet's recovery time following an injury or surgery. It may even reduce or remove the need for pain management medications or surgery!
What is Laser Therapy Treatment?
Laser therapy is a completely safe, non-invasive, non-surgical and non-drug form of pain treatment used for a variety of painful conditions in pets. Laser wavelengths allows light to be absorbed into cells (known as photobiotherapy). It stimulates protein synthesis and cell metabolism which improves cell health, functionality and increases blood circulation. At the same time, pain signals are reduced and nerve sensitivity decreases. The procedure also releases endorphins - our natural painkillers. All together, this should allow your pet to be much more comfortable and reduce any anxiety that they may be experiencing because of pain.
Some conditions may require multiple sessions for optimal benefits.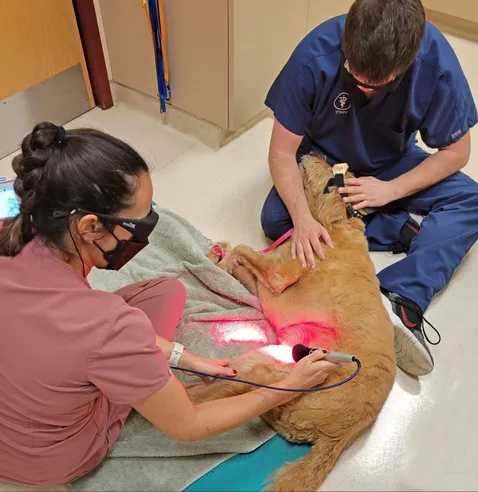 What Laser Therapy Can Treat
Laser therapy treatment is effective at treating the most common causes of acute and chronic pain including pain associated with arthritis, post-surgical & dental pain and fractures and wounds (among many others). It is extremely well-tolerated by pets as it dramatically reduces healing time. There are no known side effects from laser therapy treatment, however, it is not recommended for pets with cancer.
What To Expect From A Laser Treatment Appointment
Your pet's first laser therapy visit will include a consultation with a doctor to examine your pet and discuss the pain your pet is experiencing with you. Laser therapy will take place after the consultation. During treatment, the non-thermal light photons are applied to your pet's body for about 3-8 minutes by the doctor or a trained technician. There are multiple assistants available to make sure your pet is relaxed and comfortable while receiving treatment. It requires no preparation, blood work, fur trimming or sedation (unless your pet is usually fractious). The entire visit will take between 20 to 30 minutes.


Please call us today to make an appointment and discuss if laser therapy can help your pet!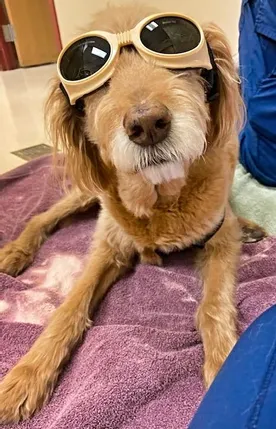 Pricing guide (not including one-time office visit)

Single treatment: $50.00
Series of 5 treatments: $235.00
Series of 10 treatments: $475.00
<-- Take it from Butterscotch!
She is over 15 years old with arthritis and pain
from an ACL repair and she has been running down
our hallway after only a few visits!