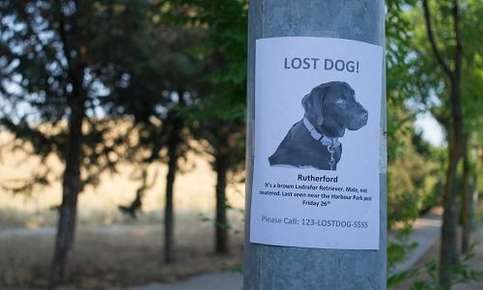 Lost Your Pet? These 5 Steps May Help You Find Your Companion
It only takes a second for your pet to dash out an open door or slip through a gate that didn't latch properly. Some animals seem to vanish just minutes after they make their escape, causing heartache for the people who love them. Although some pets return on their own, others are found only after a long search. Following these steps may help you find your lost pet sooner.
Alert the Neighbors
Lost pets don't always travel far. In fact, they may be sniffing around your own neighborhood. Before you begin a search, contact your neighbors first. Your pet may be visiting one of their homes.
Start the Search
Covering as much ground as possible as soon as you realize your pet is missing is the goal of your pet search. Enlist friends, family members and neighbors to help you scour the neighborhood for your pet. Give them:
A Recent Photo of Your Dog, Cat, Ferret, Bird, or Small Animal (Print copies or send a few images to searchers' phones.)
Collar or Harness and Leash
A Supply of Your Pet's Favorite Treats
Assign each searcher a specific part of your neighborhood. Ask them to:
Call Your Pet's Name. Use your pet's given name and nicknames.
Show the Photograph to Anyone They Meet During the Search. Don't rely on your searchers to describe your pet accurately. A photo offers the simplest way to identify your animal.
Distribute Flyers. Print flyers with your pet's photo and name as well as your name and phone number. Include distinguishing characteristics or personality traits that may not be apparent in the photograph. In addition to giving flyers to your neighbors, ask your searchers to distribute them to local businesses.
Look Under Nearby Porches, Bushes, and Other Potential Hiding Spots. Although your dog may come when called, cats often hide when they're lost. Finding them may require a little detective work. Shaking a can of treats or offering a few tasty tidbits might help lure your cat out of hiding. Be sure to ask permission first before entering private property.
Check Out the Pets Surrendered to Animal Shelters and Veterinary Offices
If your pet is still lost, log on to your computer and take a look at the pets surrendered to local animal shelters and animal control departments. Many shelter websites include search features that make it easier to identify animals that look like your pet. Keep in mind that descriptions can be subjective. You might describe your pet's coat as brown, but the shelter may label it "brindle."
Don't rely on online searches alone. It can take a few days for shelters to photograph and add incoming animals to their websites. Visit shelters and ask to see animals in both their public and holding areas.
Stop by shelters every one or two days, in addition to viewing animals on the websites daily. You may want to expand your search to include shelters within a 20-mile radius of your home. Animals aren't always taken to the nearest shelter. If someone works in your area and lives elsewhere, they may drop your pet off at a shelter close to their home.
Call local veterinary offices too. Some accept lost pets and try to re-home them.
Verify Your Contact Information with the Microchipping Registry
Has your pet been microchipped? The tiny chip implanted under your pet's skin contains a code linked to your contact information. If you've moved since your dog or cat was microchipped, make sure that the registry contains the correct contact information.
Take Advantage of the Power of the Internet
Whether we're posting the latest cute picture of our pets or kids most recent baseball game, social media is the perfect way to connect with friends and share information, including news of your lost pet.
Posting or tweeting about your lost pet will help you spread the news quickly. Encourage your followers to retweet or re-post and offer frequent follow-up posts during the search.
Consider posting information about your pet on a few lost pet sites, like PawBoost or Pet FBI. These national clearinghouses provide a platform for people who've found or lost pets. Some automatically send your pet's information to local lost pet Facebook pages or help you create printable flyers.
Microchipping can help you increase the chance of a reunion if you ever lose your pet. Whether you want to make an appointment for microchipping or are concerned about a health issue, we're here to help. Contact us to schedule your pet's visit.
Sources:
ASPCA: Finding a Lost Pet
https://www.aspca.org/pet-care/general-pet-care/finding-lost-pet
The Humane Society of the United States: What to Do If You Lose Your Pet
https://www.humanesociety.org/resources/what-do-if-you-lose-your-pet
Pet FBI
PawBoost